Chapter 1: BEGINNINGS
"The beginning is always today." Mary Wollstonecraft
FROM A SAN FRANCISCO SKYSCRAPER
Sparrows flicking off from edges
go flitting up to higher ledges.
A bustling city will not see
this flash of serendipity.
It's like birds are in a trance,
winging for joy or to enhance
reflections in the glassy wall,
appearing now more tall than small.
Finding eaves, they build a nest.
Sheltered from rain and fog, they rest,
then chirp out petroglyphs of song
that mankind's kind and spring is long.
Claire J. Baker
A New Beginning
A mighty scroll unfurled
Blanketed eternity into a sea of night
Stunning beams gleamed
Silent infinity streaked the light
Peace on Earth
Vincent J. Tomeo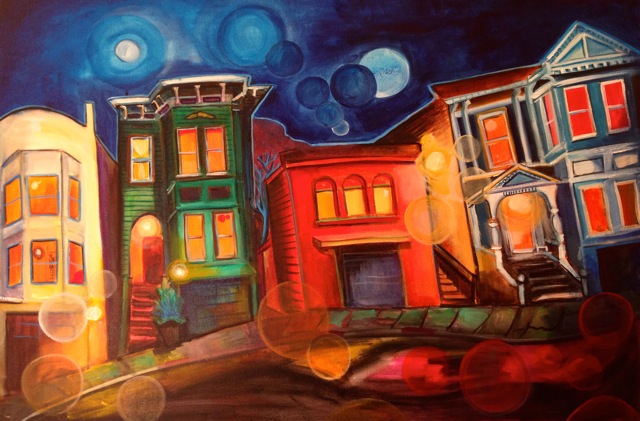 Nathalie Fabri, Nothing is as Straight as it Seems, Acrylic on canvas
eyes on here

highways
freeways
alleys
hills
eyes on the road
desert mirage
ahead
please slow down
and breathe
free
kindly
please let up
on your kids
your inner
and let go
of the no
thing
let go of the past
things
your thoughts and religions
your prohibitions
old decisions
its time
now
for the real
the just here
vibrating
colors skies grasses
the breath of
just being
just breathing
just being
free
may all beings
be happy
and free
ava bird
Call And Response
Call and response of a city morning
Slow muffled wail of distant train
Harmonized with the rumble of motorcycle
A symphony of urban cacophony
Breaking like a heartbeat
With a lumbering background drone
Garbage trucks straining up a hill
Street sweepers and buses keep company
In time with the rhythm and melody
Of awakening daily tasks
All that is necessary for living
With the beeps and sirens and honking
That accompany a day of low hanging fog
Deborah K. Tash
Strength
Bass chords
Plucked
Driving the sounds of
Spirituality
Rhythm ripping
Motion out of
Stagnancy
Music that is

City strong
Barn strong
Ocean strong
Mountain strong
Ethnic strong
Religion strong

Sounding a moment in time
Memory attached to note
For a beat or
Four
Trying to keep words
From dying
Aaron B. Jackson
THE HOME FOR LOST LETTERS
make merry, you little letters
choose your case, upper or lower, fill
your cups with fragrance & the produce
of vineyards, fill your spaces
on the verge of this morning's crossword
make merry, letters of morning, toss
the pencils along with their erasers
no margins of error here
make merry, come spell yourselves
into the heart, as one lost alphabet
speaks to another in separate
but mutual paragraphs, come
join hands, raise your upper &
lower selves, toast the holy page
drink, be vile & disorganized
Evelyn Posamentier
Fantasy Technicians
Equipment OK –
lead turns into jewels
& its not just a workroom
it's a life gallery
& those, just letters –
these symbolic canyons
– deep, beyond, and vast !
a poetry byte by Richard Angilly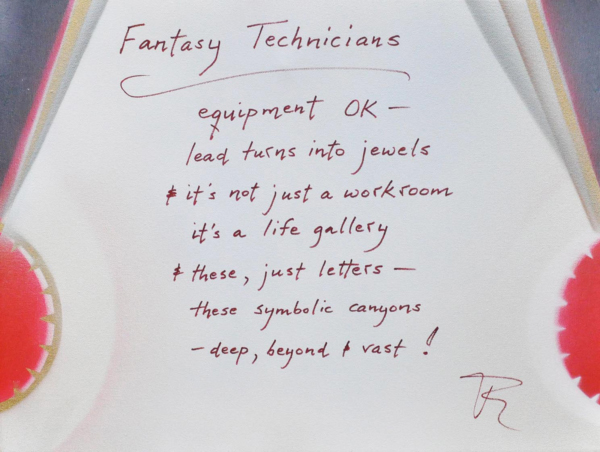 Lake Merritt Autumn Lights Festival
They appeared
as strangers do
from a stone pathway--
a Moth Princess
in a gauze gown,
flaming calla lilies,
electric fireflies,
sea glass lamps
shuddering
in the light
of the garden—
and when we left,
it seemed as though
the whole world
lit by one branch
could never go out.
Lenore Weiss

NEXT >>