From the newly released book, San Francisco Peace and Hope: Light the Sky --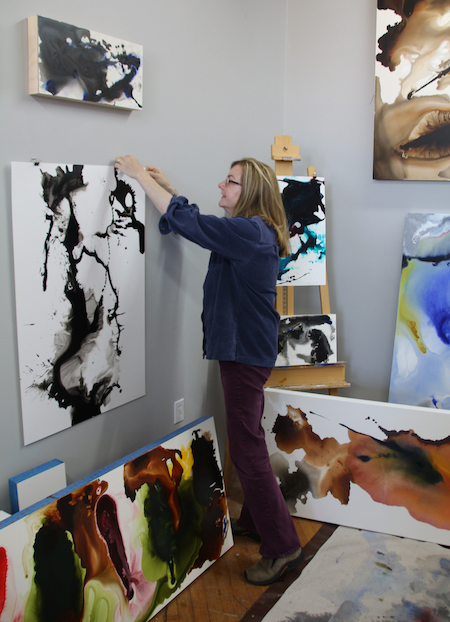 THE GIFT IN OUR VOICES
Interview with Jeannie Motherwell

Kit Kennedy: The world, as well as your personal life haven't been idle since the last time we spoke, Jeannie. In 2015 you retired from your position for Boston University's graduate program in Arts Administration. You've been committed to spending each day in the studio whenever possible. How does more available time play-out with your art? With your life?

Jeannie Motherwell: In many ways it is similar. I used to work at BU from 9-5 and then go to my studio for about 4-5 hours. Now, in the morning I do my admin work and marketing from home and then head to my studio around 2pm. It allows me to get home a bit earlier, but the workload is still as rigorous; and being productive requires a good amount of discipline.
KK: Also, I see you are putting your career as an arts administrator (Boston University) to good use as you currently serve on the Advisory Boards for North Cambridge Arts (NoCa) and Joy Street Open Studios, www.joystreetstudios.com Somerville MA. 
JM: Since moving to my studio to Somerville, MA, four years ago, I have participated in open studios twice a year (spring and fall). I am a big proponent of community and open studios give me the opportunity to interact with the public in a less formal setting. Additionally, since I joined NoCa almost 18 years ago, I have been a part of a painter's critique group for more than 15 years. We meet once a month in one artist's studio. We all work in different mediums and styles, but over the years we have watched each other's work and careers develop. I look forward to my crit each year and find it so beneficial to receive constructive criticism from my peers about my recent work. Last fall, instead of meeting at my studio, my critique was held at my solo show at Rafius Fane Gallery in Boston. It was wonderful to see a body of work of mine in a gallery setting, rather than at my studio.
KK: If there is a single word to encompass your art engagement I'd choose "prolific". You've completed numerous large paintings, mounted four major shows in 2017 and forthcoming in 2018, and added major representation for your work. 
JM: Having four shows in 2017 and 2018 has kept me quite busy and hence prolific. I am very excited about these particular shows because they are a good representation of what I have been working on since my retirement from Boston University.
KK:  Congratulations, Jeannie, on your exhibition "Color Stories: Selected Works by Jeannie Motherwell" at the Rochester Museum of Fine Arts. What an apt title for your work! Please give us a sneak preview.
JM: I will be exhibiting four 24" x 72" paintings on Claybord, a surface I have been working with for about four years. The size and shape of these boards will work well in the space, which has a paneled chair rail. I chose these particular paintings partly for their size and shape but also because each painting uses similar colors in a different way.
KK:  You've mentioned that titling your work is critical. Tell us about Speak It which will be on view at the Rochester Museum.
JM: My husband Jim Banks, also an artist, photographs my work for me. If I don't have a title for a picture when he is processing them, to give it some reference, he may provide a temporary title until I rename it. Speak It somehow 'spoke to me' if you will. I liked the title so I kept it. The titles of my pictures are meant to be provocative and to draw the viewer in, not necessarily to say what the picture is about. For me, it is often about a moment or a memory I have had in the past. My hope is that people will experience something familiar as their own as they engage with my work.
KK:  You've stated in interviews that you are interested in complex space; your work explores both intimacy and intensity; and color flies off the edges. Please elaborate.
JM: My new work explores different kinds of space—often ranging from flat to deep and everything in between. I want the viewer's eye to move in and out and move around the plane, as if one could climb into the picture. Sometimes I literally 'throw' the paint when it is very wet so it simulates flying off the edges. Edges are really important to me, which is why I rarely frame my new paintings. For me, having a 2" cradle (depth) acts as a faux frame.
KK: Your creative process, creating Pyrifera, is captured in the video on your website: www.jeanniemotherwell.com Let's talk about pouring, pushing & layering. Tell us more.
JM: For the past 10 years or so, I have been experimenting with various surfaces in my paintings. I have worked on silks or linens wrapped on stretchers, for instance, but more recently Claybord, as well as canvases primed with gesso that I mix with absorbent ground. The surfaces allow the paint to bleed more than it would otherwise. The paintings are large in scale, so I begin on the floor while it is really wet. When it is dry enough to not drip, I lean the painting against the wall and rework the picture. I'm very focused on the complex spaces that occur, the light, and the overall surface and fluidity in each painting. Claybord has a very slick surface, so they tend to happen quickly. That said, there is a lot of editing that goes on during this process and after the drying has begun.
KK: You have said, "It [painting] is like a dance with a creative partner gently leading me into moves I have not yet experienced." Please elaborate.
JM: By that, I was referring to the process of my painting. There are so many things that happen in the paintings that I am making now; they are somewhat unpredictable. This is largely because I am working wet on wet and can't always control the chemical reactions that occur. When I return to my studio from the night before, oftentimes things have either disappeared or something has appeared from out of nowhere. It is within these surprises that make my paintings challenging and so much fun to make.

KK: By the way, the video soundtrack by Asura, Atlantis Child is haunting. I know you often blast rock music in your studio. In the video, you wear ear buds. What were you listening to?

JM: Asura's Atlantis Child was added by Fallon Leigh O'Brien, who made the video. She has a cable TV show in Somerville, MA on SCATV where she found this "stock" music at the TV station. I told her not to change it because it seemed to reflect the very essence of my painting and its process. I often like to loosen up to contemporary worship music or something from Pandora; like laying out the drawing that leads to the painting. Then I wind it up with my rock music. I thought it was important to include my process on my website since, in essence, these are a form of process paintings.

KK: Your comment in Dirk Vanduffle's interview in ArtDependence Magazine, "I'm looking for the Holy Grail in some sense by trying to mesh outer space and the universe with what I know from earth" intrigues. Say more, please.  
JM: I have been fascinated with pictures taken by the NASA Hubble as much as I have been influenced by the summers spent on the water where I had my studio for more than 35 years. In trying to mesh the two experiences, I may be searching for something that is not attainable. But it is an exploration and I have so much fun learning and playing with it, that I can only hope that with each painting I get closer.

KK: Congratulations on your publication of Mariana, 2015, in Chapter 3 of San Francisco Peace and Hope. Please tell our readers about this painting – inspiration, process.
JM: First, let me say that I am honored my painting was chosen for SFPH! The initial inspiration simply came from my desire to make a blue painting. It is the most revered color, I was once told by my former art dealer. He added that it is the color that sells the most. I found that interesting (and somewhat alarming), and because I have a natural resistance to going with the grain, it was a challenge for me to make a primarily blue painting. As you probably know, the Mariana Trench is the deepest part of the world's oceans and it is located in your back yard, the Pacific. The blue space in this picture felt very deep to me, so it seemed an appropriate title. Because my husband is from Los Angeles, he came up with the title. I like that it references something tangible but may also refer to a woman's name.

KK: When you attended your dad's exhibitions (famous abstract expressionist artist, Robert Motherwell) he would ask you, "Which is your favorite painting and why?" Let me turn the tables and ask you, "Which of your recent paintings is your favorite and why?"

JM: Ha-ha. Very good question! This reminds me that whenever dad had a painting that he was not ready to part with, he would hike up the price so it wouldn't sell. Ironically it turned out to be a good business strategy, because people would pay his high prices anyway!

I have several favorite paintings, but one which stands out is titled A Sacred Trade. It is a large abstract painting with mainly blacks, whites, and blues. When I began the picture, I wasn't sure of its orientation. But as I was turning it around on the floor, while still wet, a triangular shape began to emerge. You have to understand my work process is very wet on wet, so things often begin to appear that weren't initially there. When the triangular shape appeared, I thought "aha!' it's the ghost of the Patricia Marie! Patricia Marie was a fishing boat, which sank off the Provincetown coast during the first winter I spent there. I was twenty-something and trying to figure out my path as an aspiring artist. The tragedy affected the entire community and I began furiously painting a stack of pictures that were about that event. I was so moved by the tragedy that I made an entire homage to it 30 years later. At my opening, not only did artists, tourists, and Provincetown residents attend, but to my amazement and delight, fisherman and their wives also came to lend support and to honor those who had perished. I was so moved to see the community come together like that. So A Sacred Trade has a special significance to me because the Patricia Marie series was my first body of work and the beginning of my 'voice' as a young painter fresh out of college. The boat shape in A Sacred Trade emerged as a reminder to never forget the loss of life and how it affected an entire community.

KK: In addition to Pyrifera, in En Suite in Black (a series of 6, 2016) the color black continues to be your go-to color. Comments?

JM: When I was at Bard college studying painting, I would sometimes drive home to visit my dad at his studio in Greenwich, CT. Again, he would ask which ones were my favorite paintings. Often I was drawn to the pictures with black as a primary color. We would discuss them, and he would say to me, "You really get black, don't you?" By that, I think he meant that black had more meaning to me than just as a way to convey a sad emotion, or drama, or however someone else might connote black. Like a child's doodle being their natural signature, black is like my comfort zone. I can always make something of it. It speaks to me, the way I might gravitate toward a favorite shape or favorite size canvas. By the way, my granddaughter recently said, "I want to be an artist like you, Grandma. I made you a painting at school. It doesn't have black in it, but it has pretty rainbow colors."
KK:  Please bring us up to speed on the "art career" of your granddaughter. I believe she's now six.
JM: She and I often discuss our favorite colors and she is very curious that I would consider black a favorite color. She loves to paint and draw, and our conversations continue to evolve. I think she finds great joy in not being judged when at my studio and having the freedom of expression all her own.
My granddaughter now has a sister! With four brothers, Joni wasn't excited about having to share toys (or anything else) with another girl. She has since discovered sisters are more fun than dolls.
KK: How do art in general and your art in particular try to make sense (give us hope?) in these complex and troubling times.
JM: It is very difficult not to be affected by the travails of the world and our current political climate. When the recent shootings in Florida took place, after crying (bawling, really), I had just gotten off the phone with one of my sisters whose son's best friend graduated from that school and had the same coach, who was killed. I began painting furiously, and maybe because it was Valentine's Day, I was using a lot of reds and pinks—I soon realized its symbolism and the blood reds and bright pinks became the broken hearts of another senseless tragedy. Painting is what I know and what I feel I have to do. I normally don't paint about social injustice or make political paintings; but I am interested in making pictures that evoke a feeling or a sense of recognition, so I'm sure pain, anger, and the gamut of emotions ooze out in their own way. I hope my paintings look and feel hopeful even when the odds are stacked against it.

KK: What advice do you have for our youth? What's the role of the artist?

JM: Every human being deserves equal rights and freedoms. None of us is better or more deserving than the other. We have a responsibility to leave the next generation something to aspire to; to make the world a better place for humanity--a safer, and more environmentally sound place. As artists, we have the gift in our voices which can inspire these things through beauty and creativity; that which can expand our minds to think outside of the box and to dream the impossible. While it may at times seem daunting, it is also a very exciting time, and our possibilities are endless. One has to believe that. The alternative is to fall prey to fear.
KK:  What's next for Jeannie Motherwell?
JM: I currently have a show at M Fine Arts Galerie in Palm Beach FL, which opened last night. I am very excited to have my work in such a beautiful location. I am also looking forward to my upcoming show at the Rochester MFA in April. There is an active push toward abstraction in NH, so I am thrilled to be exhibiting there. In late July and early August I will have several large paintings on exhibit at AMP Gallery in Provincetown, MA, where I summered most of my childhood years. At the same time, my stepmother, Helen Frankenthaler, is having a large exhibition of works that were created during summers spent in Provincetown with my father, my sister and me, at the Provincetown Art Association and Museum (PAAM). Viewers will have an opportunity to see Helen's influence on my art and at the same time see my paintings as having their own identity.

KK: Thanks, Jeannie, for speaking with the SFPH community.
JM: Thank you, Kit. Always a pleasure.
A Sacred Trade, Acrylic on canvas on board

Archived interviews with Jeannie Motherwell:
One Thing and One Thing Only – To Paint
"'Never Give Up the Joy and Awe of Exploration,' An interview with painter Jeannie Motherwell

To see more of Jeannie Motherwell's work:  www.jeanniemotherwell.com