Who We Are
San Francisco Peace and Hope receives Gold seal award at Dancing Poetry Festival at California Legion of Honor, September 2015.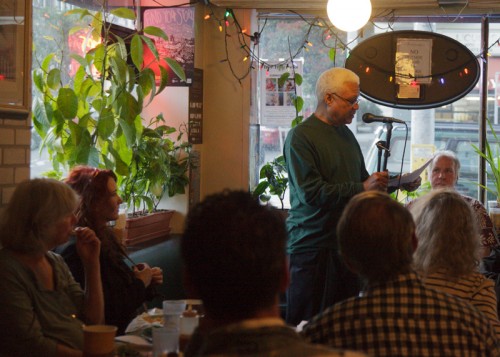 Al Young, SF Peace and Hope first anniversary reading, June 2012
Founding Director and Editor:
Elizabeth Hack
Photographer:
Philip Lewenthal

Advisor:
In Memoriam Al Young
California poet laureate emeritus

Acknowledgments:
Kit Kennedy
Jeannie Motherwell
Natica and Richard Angilly
Stephen Kopel
John Rowe
John Rhodes
Mark Osaki
Clara Hsu
Tatjana Debeljački
Susan Jokelson
Rudi and Julie Raab
Cheryl Jones
Philip Lewenthal
Elaine Drew
Dan Brady
Vince Storti
Erica Goss
Nancy Vicknair
Justice Morrighan
Winnie Thompson
Marty Wood
Claire J. Baker
Niya C. Sisk
Patrice Haan

Copyright:
© 2022 San Francisco Peace and Hope. All rights reserved. No copy or reproduction of contents is authorized without written permission from the participating visual artists, poets or writers.