Chapter 7: ETERNITY
"Hope is a waking dream." Aristotle

Consider This
Consider this
An invitation
To peace and hope and joy and love
An invitation
To the truest part of life
We dance
The labyrinth unfolds before us
The rose blooms
The colors pulse and permeate our spirits

All, because she asked
Consider this an invitation.

Malisa Young


Bruce Barton, Sonnet 13565
raven
dear bird of night
with shining eyes
if there's less light
where you are found
let that suffice
and bring around
the zodiac theme
of six and seven
a banqueting dream
superabundance
made for heaven
to all as one dance
Christopher Mulrooney
WE WHO ARE LUMINOUS

We who are luminous,
are radiant,
are 90% light,
who know a fiery fusion that
makes stars, and suns,
whose flesh is compressed of
dancing atoms.
We chart an inner astronomy,
our nucleus, our energy,
without burning our eyes,
we see.
There is a crust of seasons that we wear.
Seeds sleep along the bones,
erupt, and bloom
in heats and darks responsive to our moon.
Flames loop and leap the arteries.
There is a crust of seasons in the womb.
Beyond our brightness,
our creation, cells
connect in constellations of our own.
We who are luminous.

© Mary Rudge


Gravitation
Night dissipates our thin envelope
of atmospheric blue, immersing all
in the blackness of the limitless void
where distant stars — each fixed in its
place with improbable permanence —
are destined to be unattainable.
We can only wonder at those pin-pricks
of imagination in the velvet folds of night
while projecting our aspirations and fears
into a future already light-years past.
Such untimely wishes are misplaced;
memory and secret longings exert
a constant force attracting us toward
that center of gravity we call home.

David Olsen


Audrey Anastasi, Balancing Act, Mixed media
RANDOM THOUGHTS ON WEIGHT, GHOSTS
& THE CALIFORNIA STATE FLOWER
ghosts
impervious light/dark
weight of stone/weight of rice
try teaching ghosts boundaries
they insinuate themselves in family photos
shuffle the periodic table, tamper with gravity
& are utterly clueless about seasons
ghosts
choreography those lucid moments
upon waking Later I scribble a frenzied script
on steamed shower door -- body 99% water;
life ¾ evaporation: do the math
as the random weighs chance,
has much to teach about rambling
Please forgive these musings
Oh, yes, those California poppies --
amber pots of sun shutter-up in the lessening
& open to preening light

So mired in the personal, I assume the serious
takes shape in the grand, in the tangible
that awe need be taller than an anklebone
Kit Kennedy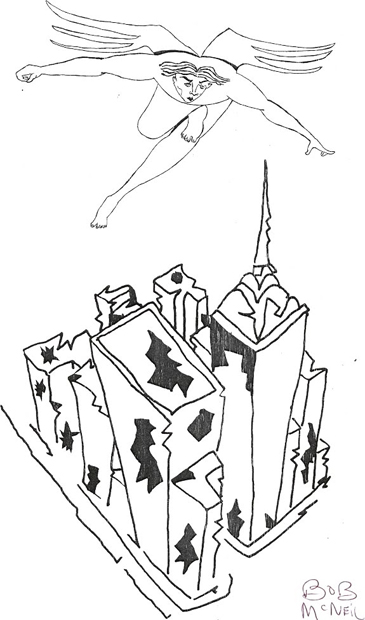 Bob McNeil, Angel, Pen and ink

Giant
Did you ask its name
Smile and look into its eyes
Measure the features
Of its face?
Did you breathe in slowly
Taking in the scent
Share the air
Of its intent?
Or
Did you only calculate its size
Imagining the harm
Its teeth around your head
A giant in your dreams?
Did you notice its gifts
When you started to run
Its gait reflecting your own
With the truth of your being?
Deborah K. Tash
AS TIME ENCIRCLES AND RECYCLES ITSELF
As time encircles and recycles itself,
mirror likenesses thicken and fog up.
If you have trouble finding yourself,
start looking elsewhere. The sky –
not only is it not the limit, it opens
and dares you to look up who you are.
Mountains and mountains and mountains
– they're you. Great Lakes you take
to be out there someplace look like you,
splash and churn and shine like you.
The world beyond washed flesh is you.
Light dries your eyes; one blink can melt
illusion, dissolve the frame that says:
"I look at you and see no evidence of me."

Al Young - Copyright © 2008 by Al Young
TO THE HEAVENS

We walk on the ocean, explore
the cosmos; love deeply,
weep, emerge from scars
amazed we can love again.
Transcending darkness
we find it full of light.
Worlds of other skies,
skies of other worlds,
we inhale, sparkle,
flicker off and on.
Exhaling, we fan
each other's sparks.
Truly,
as Carl Sagan beamed
with boyish vigor:
"We are the stuff of stars!"
Claire J Baker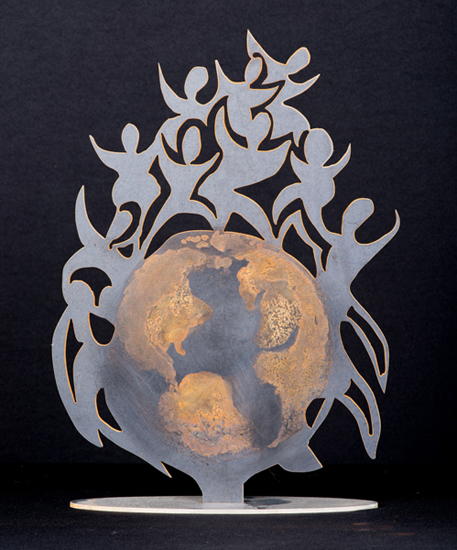 Salma Arastu, The Global Celebration, Steel sculpture with patina
folklore (reprise)

now after the second act finale
settling down in our seats Wow
as Stravinsky says it's a real stunner
what's that moon and stars right here on our stage?
a really big shew
Christopher Mulrooney
THE INNER SUN

The inner sun
rises from deep
within the soul
bringing all that
comes with the dawn
It shines brightly
through the eyes
while glowing around
the body during its
peak
At sunset it
evokes a light beam
of energy that pierces
through the dusk at
an exponential power
and shimmers with ultimate
passion amidst the stars

James Berkowitz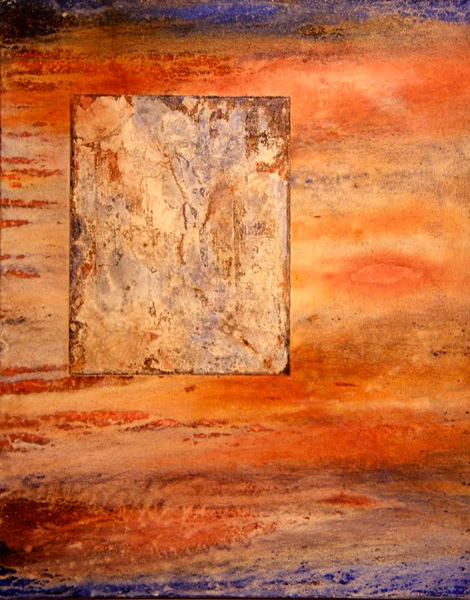 Carolyn H. WarmSun, Transition, Acrylic on canvas with Yupo collage

In Praise of Radiance

I walked out the backdoor into tomorrow.
Dead pigs are smiling in the sun.
Stars are dying on my tongue.
I need a kaleidoscope to lift the day
into its proper key.
The lexicon of lust that pings
in the garden with each harvest bloom
and mercenary bee is a form of hope,
the way the season's gilded imprecation of leaves
anatomizes phloem and xylem's
dark continent with radiance.
The everything that calls and echoes
in the intimate latitudes of distance:
an ur-language whose code is silence.
On Market and 2nd's gateway to the sun
every body haloed in the solstice
of emergence, the actual slaking
every sidewalk crack.
Spin, O, Catherine Wheel,
breath's mandala, Higgs desperadoes
of the hidden field,
deliver us all to phosphor's
luminous edge,
our sanguine tributaries igniting
in a cosmic memory of tears.

José Luis Gutiérrez
Each of Us a Leader

Finding your Soul City?
Well, forget Google Maps
Locateable, says this poet, if one desires
to search for spiritual peace and devise ethical
codes of conduct by which to live harmoniously

Our personal places of reflection don't
need a hammered ridgebeam, rather,
sympathetic heartbeats to measure one's
liveliness of purpose shaping
unselfish thinking, kindness in actions

Refute naysayers with a
disposition of hopeful openness,
respect differing routes to the same result
live by example ... eschewing anger
grieve not for your own lot, shake a stranger's hand

Stephen Kopel
Anyplace Alienation Drinks

Charles Bukowski,
a leech for libations,
once armed with pain,
a typewriter
and pixilated viewpoints,
these days
goes to the Pantheon Taproom
with Dvorák
and Rimbaud for free rounds.
If there are
liquor-marred barflies
and the delusion that alcohol
forestalls tall problems,
Charles will dwell
anyplace alienation drinks.
Copyright 2013
Bob McNeil
Ten Minute Music

Mandela's spirit's rising,
and I have ten minutes of free
music in the concrete park.
No woman no cry, Bob's voice carries
on and Today the Judges say
you can love who you want to love,
because here there is still
the Pursuit of happiness
(you know the words by heart)
and sometimes
the tears come from joy and
no one ever dies.
At the same time remember
to sway, then sway in the free
concert on the red marble slab,
cool beneath the shade of just enough
branches reclining, not so much weeping.
MJ rocks eternal on the iPod
outside the modern
factory full of clicking computers.
My own inside cries
because for this now still
ten minutes of free
music everything is
steel drum fine and
no one ever dies.

Stephanie Laterza
VISIONARIES
(In memory of Mary Rudge)
Seekers of the exotic,
riders of water and wind,
shapers of jewels and images,
builders of bridges/ breakthroughs,
explorers of Mars, the psyche,
artists, students,
celebrants, elders,
embryos this moment conceived --
whatever we will be in an hour,
tomorrow, a hundred years
or at the last turn of the earth
under moonlight's incantations,
whatever comes
may we lean toward
the language of roses.
Claire J. Baker
Being In Many Lives

Do we inhabit each life we get?
or are we separate from it?
do we know we are ourselves?
I don't think so.
I will see a man walking
in a field in India.
I'm on a train
and I imagine
what it's like to be him,
walking in the dirt
having nothing
the poorest.
But what do I know,
that's my slanted perspective
like bugs on a screen
hit by the afternoon light
seeming rainbow-like.
So, I'm being many people
but being no one.
I have been many people
and now am no one.
I stand on lop-sided ground.

Jane Rades
Ethel Mays, Arctic Brooding, Monotype

CARAVAN

Stay with the caravan, yet be
yourself; notice what others do,
what wise ways they take,
yet follow your own path.
Whether you ride, walk, fly,
limp, run or stumble
you are your significant other,
a lover of sun and stars,
interpreter of human nature,
celebrant of carousels --
drawn to oceans, dune grass,
waterglow, children, art.
When alone may you serve as
your own fine companion,
aware, amazed,
ecstatic to be alive.
Claire J. Baker


United, Offering
What brings us out this morning?
A story so big it knits all people.
Remind our children:
a silent gate opened,

and glad, we lit the candles,
offering the whole of ourselves.
Brokenness, hear our song.
Within the love story,
we practice, we bear all things.
All who are able,
worship the affirming flame.
All who are able,
please stand.
Erica Goss


Ghosts

I feel the shadow of unseen things
the air heavy with ghosts.
They drift autumn streets, a rustle of dead leaves
as they pass.
Their melancholy farewells
glaze us
a chill breath, a caress from distant shores
receding as heart heals.

Janet Butler
The Dream of Poetry

The dream is fluid—my blood runs
slowly through me in comparison.
Out of open mouth: butterflies and fireflies
as I look at an ever-shifting landscape.
I wish for you to sit beside me
for the sensation, not the description.
Then you are here without question—
why I am not amazed?
You and I balance the sun and the moon—
we laugh at how different we are for being the same.
The wide-eyed animals can speak as we do,
but we all remain silent for a time.
You and I will wake up in different lands remembering
the sharing of this dream as we write it down.
John Rowe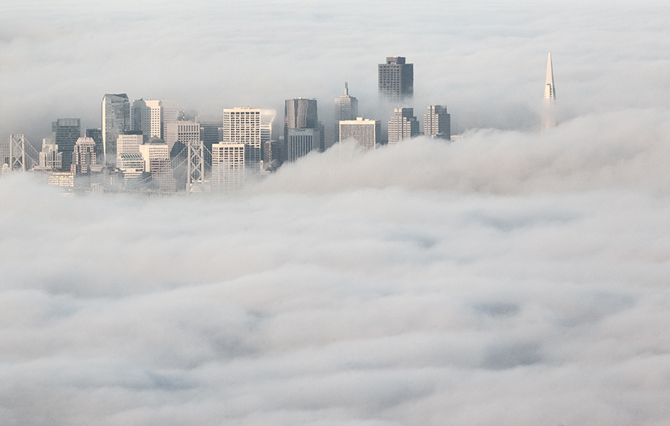 Philip Lewenthal, Morning Fog, San Francisco, Photograph


<< PREVIOUS