Chapter 1: PEACE AND HOPE
"If we have no peace, it is because we have forgotten that we belong to each other." Mother Teresa
FELLOW TRAVELER

Should a star
fall into our hands
we need not place it
back into the sky.
 
If we must break new
ground, why not start
with the land
on which we stand...
 
If we feel we are
on our way though we
haven't moved an inch,
we are on our way.
 
fellow traveler,
we don't have to fly
a million miles
to know we can soar.
 
© Claire J. Baker
AS TIME ENCIRCLES AND RECYCLES ITSELF
As time encircles and recycles itself,
mirror likenesses thicken and fog up.
If you have trouble finding yourself,
start looking elsewhere. The sky –
not only is it not the limit, it opens
and dares you to look up who you are.
Mountains and mountains and mountains
– they're you. Great Lakes you take
to be out there someplace look like you,
splash and churn and shine like you.
The world beyond washed flesh is you.
Light dries your eyes; one blink can melt
illusion, dissolve the frame that says:
"I look at you and see no evidence of me."

Al Young - © 2008 by Al Young
Pallavi Sharma, In-line, Mixed Media 2009
POETS OF THE CALL
We answer the call
sung out in all ages.
We follow that call
which flows from moon to sun.
We are here, sparks of life,
poets of the call, its song.
We sing out our calling --
our song from one to all.
We sing in all voices --
sing with our rhythm, our form.
We come from many nations
-- a rush in our river of song.
We break into all silence --
sing praise in many names.
We are that truth, carry that light
-- we sing, we echo our call!

Richard Angilly
Universal Language
Mutating sound waves travel abroad,
reaching many.
Countless reactions,
brings forth great satisfaction.
The desire to welcome a new comer,
becomes unbearable to souls.
Intermingling with one goal,
that is peace.
Music soothes the soul,
for a moment,
all is under control.
© Kurtis L. Miller

FAITH
When you walk to the edge of all the light you have
and take that first step into the darkness of the unknown,
you must believe one of two things will happen:
There will be something solid to stand upon,
or you will be taught how to fly

© Patrick Overton
© Jeannie Motherwell, Patricia Marie: Abyss, 2007, Acrylic & collage on canvas

BROADSIDE
 
When life smashes broadside
like in a sea-storm, we are
driven like waves,
dashed against rocks.
Sharks lunge, sting-rays sting,
crabs nibble to the bone,
seaweed tangles, pulls us
broken into the ocean.
 
As we sink,
we hope the storm is temporary,
an alien passage that will pass
by dawn. We ask,
can we pull ourselves together,
remember the rescuing force of love
as we struggle to surface,
resume our lives for good
for good?
 
© Claire J. Baker

FRIENDS WRITE MY POEMS
911
Friends leave messages
I want to use
not fall into the the trap
saving precious
for blind hands to sort/shuffle. Discard.
May I treat their words like silver
use often keep luster.
May we not lose courage or cower.
My love flew away this morning
later afternoon she reaches a city
its name the sound quail make.
Please, love fiercely.

© Kit Kennedy

Don't Bounce a Mirrored Ball!
 
Beg the soldiers to forget
that flashy trick step
                                              of Death
in the innocent eyes
of a third year poetry student
the soldiers are about to kill.
 
Beg the soldiers to remember
the smooth trick step
                                              of Life
blissful in a disco with soldiers
from every single country
on the mirrored ball we cling to.

Marvin R. Hiemstra

© Squeak Carnwath 2004, Sorry World, Cotton Jacquard tapestry, 80" x 80" Oakland, CA.
View additional work at Magnolia Editions

Ecclesiastes 3:1-8
"To everything there is a season
And a time to every purpose under the heaven:
A time to be born, and a time to die;
A time to plant, and a time to pluck up that which is planted;
A time to kill, and a time to heal;
A time to break down, and a time to build up;
A time to weep, and a time to laugh;
A time to mourn, and a time to dance;
A time to cast away stones, and a time to gather stones together;
A time to embrace, and a time to refrain from embracing;
A time to seek, and a time to lose;
A time to keep, and a time to cast away;
A time to rend, and a time to sew;
A time to keep silence, and a time to speak;
A time to love, and time to hate;
A time for war, and a time for peace."


"When shall we learn that we are all related one to the other, that we are
all members of one body?"
-- Helen Keller

"Whatever doesn't kill me, makes me stronger."
-- Friedrich Wilhelm Nietzsche

"Give of your hands to serve and your hearts to love."
-- Mother Teresa

"Even from a dark night songs of beauty can be born."
-- Maryanne Radmacher-Hershey

"Sometimes our light goes out
but is blown into flame by another human being.
Each of us owes deepest thanks to those
who have rekindled this light."
-- Albert Schweitzer

"Love each other or perish."
-- W.H. Auden, poet
Submitted by Nasrin Naraghi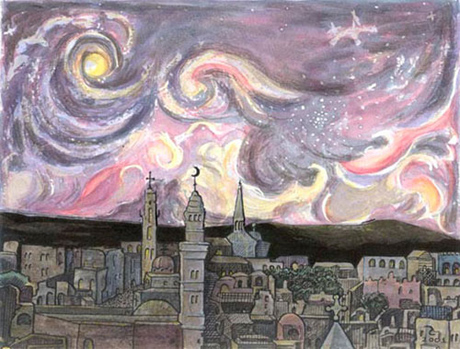 Elaine Drew, Oh! Little Town of Bethlehem, Water color, pen and ink. This is my plea for peace aimed at what I have come to think of as The Three Warring Brothers: Christianity, Islam, and Judaism.

Listening for Peace
No one sleeps alone.
We sleep with all who have
died in grievous wars
down countless ages.
God, what is so difficult
about pillow-soft care-
the same in any language-
there is always room
on the pillow. Lie beside us
& whisper peace. Whether we
sleep or talk all night, our
blood flow will be listening.
Surely, already you can
hear us listening,
shaking mountains
with our listening…
© Claire J. Baker

THE HUMAN ELEMENT
We slip out the door unnoticed. The sky is a soft shade of
gray. Only later will we have cause to wonder if the
mirror in the hall retains a trace memory of every face it
ever reflected. For now, at least, no one uses a word we
don't know. Ghosts of notorious historical figures drift
slowly from the smokestacks. Attorney General Palmer. Lord
Raglan. There's nothing on the radio about us or bare,
sinister trees marching through the capitals of Europe. We
fall asleep holding hands.
Howie Good

While You Can
Don't be afraid
don't look for signs.
Tomorrow
you will arrive
just after the explosion,
waving your arms through
the light-struck dust.
I'm the ash that coats your tongue,
makes you cough
and cough. No,
I can't stay quiet tonight
on the street made of words.
Soon I will pass through you
like hair through a comb.
Love me while you can,
before the hot air crumbles
like sand; love me like
the black and white sky
spinning.
Erica Goss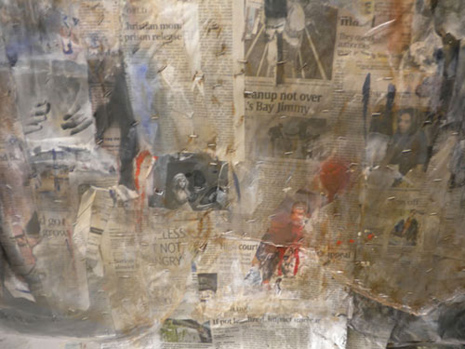 Damaris Ruiz, Hiding Help, collage. "This piece shows how we "human society" are always in need of help,
or hope whether that be spiritually, materialistically or physically. We forget though that there are others willing to extend those helping hands, and throughout the piece you see hands that are hidden with in all the chaos and depression. For me this piece shows that there is still hope and in that hope we can find peace within."
— Damaris Ruiz