Chapter 2: CONFLICT
"Better than a thousand hollow words, is one word that brings peace." Buddha
February 2nd's White Full Moon
The dawn drained tears into eyes: 
Eternal absence. 
Some relief. 
 
But then the full moon. 
Those depths. 
Those highs. 
 
The generosity of a friend. 
The words of a living Rumi. 
The humor of a local poet. 
 
But this morn,
Knowing the days without,
The sadness seeps in. 
 
Change breathes here again. 
Accept the revolutions
From the underground Spring. 
 
Even though numb,
Even though dazed, kiss
The comings and goings.
Jane Green
Simple eons
Is the morning bettering?
Even in this mist
Who am I to ask for sun?
After thousands of years
Of rain in the jungles
Wind in the deserts
When will a child
Point to the sky and say
There are no more planes
hiding the sun today?

Susan Gangel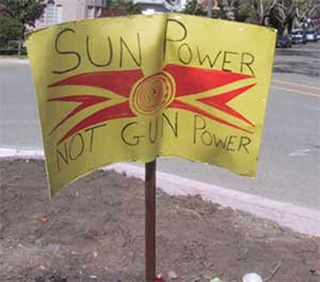 "Sun Power" sign protesting the invasion of Iraq. Berkeley, California, 3/18/03
SKIES
(for troops returning from war)
 
Soldiers, let us show you
rainbows pouring colors
off both ends;
hilltop poppies unable
to be anything but lovely;
the grandeur of gulls
gliding high over waves.
 
Let us point out
lavender blue between
redwood branches,
sundown's fresh bouquet
one can reach out, hold
in open arms:
 
soldiers,
there are balmy evenings
when stars faintly ring
little bells.
 
Have you seen up close
a harvest moon's
otherworldly lake,
like molten silver?
 
Weary soldiers,
let us show you skies
far from explosive,
skies you will want
to remember always.
 
(first printed in Street Spirit)

© Claire J. Baker

A SOLDIER SPEAKS
(for Robert Dillman, from Iraq)
 
I could tell you so much more,
but that is for another day.
We barely knew what was in store.
My story's brief but there's much more
of glory and of senseless gore --
wanting to leave and wanting to stay.
My friends, excuse, I'd give you more.

But that is for another day.

© Claire J. Baker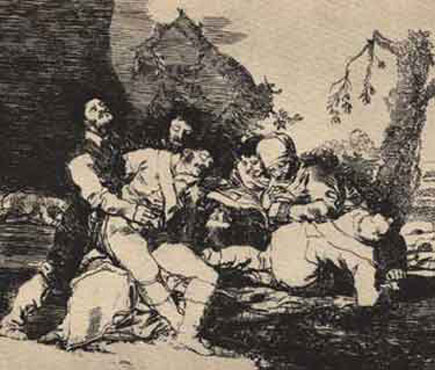 Goya, Look After Them Then Turn to the Others, Disasters of War Series
Will You Still Grieve For Us?
Frances Spencer
THE FIREBIRD
The flash-dance of fire
claims- flesh - hair -bone
I burn of passions and dreams
consummated by visions
the fire in mind, brain, soul,
the neural structure glowing lit
electric
neon flashing messages
fireworks starbursts
in such heat
I create,
knowing process:
- - of flame, spark, ash, carbon,
-- -ember, smoke.
When fire has finished with me
danced me down to a molten pool
of sweat
on my chosen habitat, the dance floor
where the curtain rises and rises
again, -- like a great wing it lifts --
I rise again
even when all is ash
after the great and continuous fire
leaving the clean bone
the flesh purified, transformed,
still, the unburned heart remains
yet I will rise again
reborn
on this same stage or another
the curtain rises
like a great wing
my arms lift
like wings
this is how it is to be the
firebird

© Mary Rudge
MOTTOS
© Frances Spencer

Philip Lewenthal, Untitled, Digital media
Revolution is the Pod

Revolution is the Pod
Systems rattle from
When the Winds of Will are stirred
Excellent is Bloom
But except its Russet Base
Every Summer be
The Entomber of itself,
So of Liberty —
Left inactive on the Stalk
All its Purple fled
Revolution shakes it for
Test if it be dead.

Emily Dickinson
WINTER SOLSTICE
 
Knocking ice from the stone steps, a rasping
in bare branches like claws on a slate sky.
A few leaves curl to themselves, refuse to fall
until they are pushed out by the new buds,
which seems unlikely this dark time of year.
But Ecclesiastes says everything
in its season. A return of the light
brings warm days and new leaves, blossoms then fruit,
which, they say, does not fall far from the tree.
But if seeds sprout within a tree's shadow
the saplings will surely be stunted
and voracious in the filtered sunlight.
This sonnet is for a past president
not even a tree. And aching to burn.
 
Ken Saffran
Yukiyo Kawano, 01 secondary witnessing series IV, 48" x 63" ink, acrylic, sand,
fabric, thread, pumice, gesso, galkyd, adhesive, blackened with burned flame

PLANES
Planes. Why is it always planes
that deal the dreadful blow?
Bright silver birds
Lumbering across the sky
On a calm Hawaiian morning
Brought terror to paradise
And changed the life we knew.
On a storm-tossed March
A shining winged arrow
Flung itself into a mountain
Ending beauty and joy
For some of us
For a long time.
And now again
Those birds of prey
Guided by unnatural intelligence
Turn upon the land that gave them birth
Wreaking destruction upon the innocent.
It is time to clip their wings.

© Genie Lester
Live Blog: Japan
Line  Of  Offense: Washington -- Baghdad
whole fences of lightning
spill over the hills
 
of course I want to believe
the word is the world
 
but translations go so awry
and spies roam the libraries
 
Ken Saffran, San Francisco, CA
Evelyn Glaubman, Stop Violence Hate, Mixed media
FOG DEFENSELESS AGAINST A CARNIVAL

of glass
red/yellow
mythic tentacles
suspend above
black mirror
apex/nadir
seamless
what depth   what joy   to root
what is real?
what eye declares
a stirring
of ember & psalm

© Kit Kennedy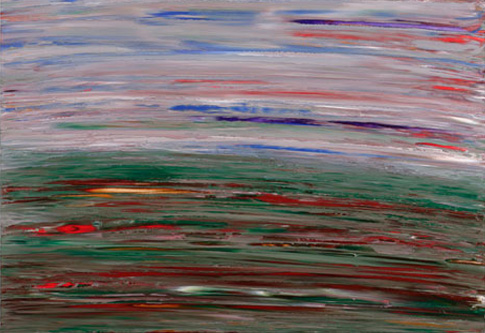 Elizabeth Hack, Green Meets Fog Sky, Mixed media on panel
"I said to my soul, be still, and wait...So the darkness shall be the light, and the stillness the dancing."
T.S. Eliot
Reeds 
 
A pond at dawn. 
Reeds stationary. 
No croak from a frog. 
No bubbles from a turtle. 
Stillness. 
Breathless. 
Callas
Lax. 
Fallen seeds
Heavy. 
Edged. 
Caught. 
A head posed. 
A still,
Round pond. 
Hope
Reclined
Like a wounded sailor
Ready to sail. 
Jane Green
Peace
 
Create this once and you've created it one thousand times
One million times, one thousand million never ending times … peace
Is what is between any two thoughts
Any two breaths, any two heartbeats  - a stillness
Peace …  is what is … between the dreams the wants and wishes - a stillness
Peace …  is what is when nothing at all is happening
When the air is calm and the gold of day
Settles into night's deepening hues there is - a stillness
Peace …  is what it is …  in this world
When the soul is unruffled …  as a simple indrawn breath
Provides perspective before you simply react
When you look before you leap, as it were - and you keep - a stillness
Peace  is what it is … on a tranquil pond with reflections that mirror life
Until that first duck skids in - or a breeze wrinkles it
Creating an impressionistic collage of green and sky sequins - with
-A stillness
Peace …  is what it is … when each step is a forward step
On the path that lay easy before you
With a subtle wind at your back … and you walk along with - a stillness
Peace  is what is … when your quietude is like that of the new moon's
As you're reeling with the inspiration of a lover's serenade
All on a lazy hazy summer's night and each clear moving note
Is embraced by - a stillness
Peace …  is what is … in harmony …  it's the heart of the matter
And therefore of all matter … of the universe … for all time - a stillness
Peace …  is what is … when you create it
And, being that it is … all there is … peace is … a stillness
Create this once and you've created it one thousand times
One million times  - one thousand million never ending times
Peace is – stillness

Dan Brady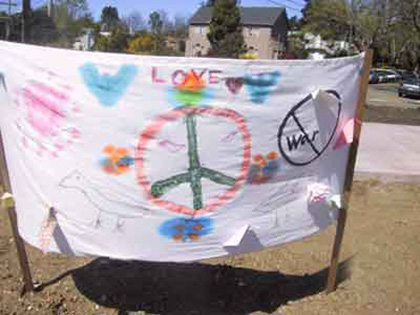 Peace cloth, Berkeley, California. 3/17/03