Chapter 5 - TRANSCENDENCE
"Look at how a single candle can both defy and define the darkness". Anne Frank
Newton's First Law Of Motion
 
is it possible
to find them
in what is today
rain turn to snow

      an avalanche of debris
a moment ago was
remarkably fragile steel
the image of security
reflected in glass
      so many lives
rising and falling
choosing to stay still
poured like gravity
onto brittle streets
 
this season of subtraction
light drains from trees
thin shadows touch
all we ever loved
wind has
the last word
remember
  
Ken Saffran
© Jeannie Motherwell, Elegy 911: An American Tragedy, 2001, Collage, 18" x 24". The abstract forms, with a heavy emphasis on black, inspired this homage to the tragedy on September 11, 2001.
IN SUNDAY SERVICE
        (a Cinquain)
 
Chalice
a lit candle.
A dove pin or necklace
holds whispered hopes so silently
they shout.

© Claire J. Baker
The Healing Wall ©Patrick Overton
FIREBIRD RETURNING
Something shudders our dreams
like a great wing spanning
the past to the future,
it is more than it seems
this real unreality.
Out of all cultures it streams
its long feathers, its prizing beak,
it is more than a streak of
our consciousness.
"Wake, wake your mind, your heart
out of fire, you will never be
consumed. Look on me," cries
with wonderful ever-compelling cries,
the firebird. "I am here again and again,
see me, I show you eternity,"
returning,
eternal.

© Mary Rudge
Misty Blue Moon
This is a painting
of the misty blue moon.
A ghost behind curtains
of vague night clouds.
Complete darkness surrounds
a solo lunar being.
She peeps out from her
mysterious veil
and blends
into the navy blue.
She is a camouflage
of something beautiful to come.

Dabetswe Natasha
MONARCH
by Dee Allen
Fast asleep-----
Heartbeat slows to ceasing
After the stroke of midnight
 
And then
 
Jehanah rises immediately from slumber
From her bed upon spotting
A wandering monarch,
The bear the rest of Humanity declared a king
Of its species.
Jehanah follows the great brown bear
Through her bedroom door
Serving as a threshold
To a warm sunny forest
Of redwoods & aged oaks &
Dirt trails formed from human travellings,
Where she has free rein to commence
Her spiral dance.
Tributes paid in graceful
Movements across soft grass to
All four directions, the yin, the yang & her beloved
Chosen goddess.
 
 
The monarch bear,
Spirit-animal of her literary
Lifelong prayers,
Led her here.
Jehanah is the iconic, poetic Druidic
Mother of a new grove
In the hereafter.
_____________
W: 11.21.10
[For Jehanah Wedgwood----1941-2010*.]
*Jehanah Wedgwood was the original Sacred Grounds
Wednesday night Spoken Word open mic host for 19 years,
from 1991 until her death in November 2010. Miss Wedgwood
was also the co-editor of 15 Sacred Grounds poetry anthologies,
Grove Mother of the Monarch Bear & Manannan Mac Lir Groves inside
Golden Gate Park and practicing Druid in the Order of Bards, Ovates 
and Druids. She is survived by three children----Susannah, Thomas
and Mary-Shea----and three grandchildren----Ely, Colby and Evan.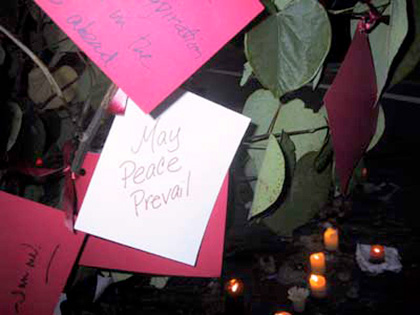 Candlelight memorial. Berkeley, CA, 9/13/01
O

Sometimes it is best to be unmoved and moved.
I lie stationary and am moved by the patterns of yellow and night-accentuated
light across the ceiling of the shadow-room, by the candle which smells of moon-tangerine,
By the grooved fingertip-abyss, by the skittering buttling-mouse, by the evocation of
fields brought to me by the only sun-man.
The mouse helps me, running with purpose through the wall-holes that every house must have, its seed-heart beating; and if my flour-sack is left open, my bread left unwrapped, my fallen walnut left on the floor, then who shall say that it was not my fault?
If darkness makes the candle shine brighter, I say contrast. I say meld, and continue your
fine, brisk outlining.
So I lie still and am touched by the hands of the earth.
Abigail Schott-Rosenfield
THE FORGIVENESS OF TWILIGHT
Day begins to shade into evening.
Shadows not yet formed,
a stillness gathers
as if for a different celebration.
Birds call quietly to one another
and the leaves of plants murmur together.
The sky softens and flows;
lengthening light bestows its benediction,
reconciling each presence with every other
in the forgiveness of twilight.
Sherri Rose-Walker
For Least Terns --
peace and nest land, returned
Stepping through spring dew
in herb-fresh new day,
Least Terns of Alameda spread their wings,
joyful in peace land returned to them.
No more that horror of man-made
frankenstien-bird-like metal planes
that throbbed, zoomed, soared, roared
over cement the Least Terns knew covered
land tern-generations old.
Now Least Terns lay their eggs on obsolete
landing fields, let fledglings fly 
where once war-focused-men's flight patterns
cut sky.
Here Least Terns bed with sun
and free stars around them,
where they know they belong.
Song no more drowned by
roar and whoosh, thunder and tremble
of quaking earth, vibrations created by
engines, turbines, roll of wheeled
mechanical monsters over the fragile shells.
Those silver, artificial, fuel-streamed jet flight
fighters that gleamed past now are gone into
past history, air strips so quiet. And Least Terns
splash their feathers through dew in herb-fresh
mornings, spread wings celebrate peace lands,
Alameda, sanctuary, returned to them.
And turn quick eyes toward white sails
spread to winds of the quiet bay off the
island shore where war ships go no more,
spread their wings happy over
land returned.
© Mary Rudge
RESURRECTION

(Looking at the sea.) 
When we stand on a hilltop
and face a sunrise, we harbor
 
no concern over what or who else
we may become, or when, or if.
 
Every sunrise is a Great Now
metaphoring
 
that we, too, have risen
many times before -- that
 
rising again and again is
what life is all about.
© Claire J. Baker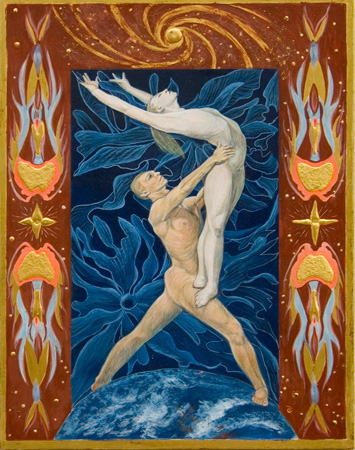 Elaine Drew, The God and Goddess of Art: Skill supports Inspiration
PRELUDE
It is morning;
clouded and still, the air,
threaded with glimmering wings,
hushes the garden, soft in its beds.
The blessed green angel
has touched the new and eager plants
now arising in the light,
each color a fresh flowering of love's intention,
as if it were the first day of the world.
Inside, we are quiet,
murmuring what might be a melody
so softly, the air is not disturbed,
but slows to listen yet a while.
Soon, we too will rise,
walk out into the reverent air
so tenderly moving among the plants,
so gently upholding the winged,
so generously enfolding our murmuring notes,
offering them to the emergent symphony of the day.
Sherri Rose-Walker
Candlelight memorial in Berkeley, California, 10/5/01
Better to light one small candle than to curse the darkness.  - Chinese Proverb
WE WHO ARE LUMINOUS
We who are luminous,
are radiant,
are 90% light,
who know a fiery fusion that
makes stars, and suns,
whose flesh is compressed of
dancing atoms.
We chart an inner astronomy,
our nucleus, our energy,
without burning our eyes,
we see.
There is a crust of seasons that we wear.
Seeds sleep along the bones,
erupt, and bloom
in heats and darks responsive to our moon.
Flames loop and leap the arteries.
There is a crust of seasons in the womb.
Beyond our brightness,
our creation, cells
connect in constellations of our own.
We who are luminous.

© Mary Rudge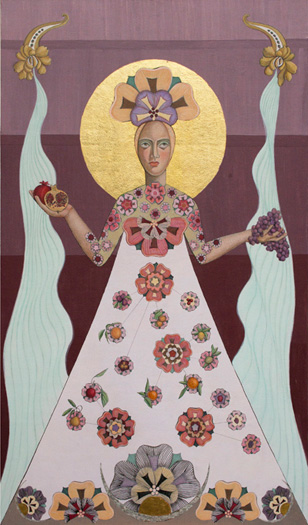 Elaine Drew, Pomona: An avatar of Mother Earth, she blesses with bounty
WONDER
 
Someone walked across
   a snowy meadow &
      left no footprints.
© Claire J. Baker